Momma, aunt Lola and cousin Lauren came to town for a visit and brought a whole heck of a lotta snow with them! Literally, it was coming down so hard right at the time they were supposed to be arriving, I didn't think they would make it. But they did. Whew. The ladies came a blazing in the door needing a stiff cocktail. asap. We headed to the Bohemian for a late supper and started right in with stories of the trip. I'm pretty sure we were the loudest table in the joint. Hubs got the moms all settled into the hotel and Lauren was a guest in our bungalow. Everyone needed a good nights rest after the drive. I have a feeling they will be telling the tale for years to come!
The next morning I cooked us a big breakfast before heading out into the snow. The streets were so gorgeous and white, but fading quickly. With our winter boots pulled on we piled in the car and headed out for bit of retail therapy. I have done practically no shopping since I moved here. Partly because it's not as fun to shop solo and partly because my belly has inhibited my purchasing any new clothing. So this was a treat. We had the best time and found the cutest baby store called but… it was closed! Argh. So I left a message and we headed to Babies R Us. Talk about overwhelming. Yikers. We felt a bit out of our league. Where to start, what to buy? My goodness. But with our moms following behind, Lauren and I jumped in the best we could. Soon, we were wheeling strollers around and chatting with other mother/daughter pairs in the store. Luckily, I got a call from the baby store and she was now open. Sweet. It was well worth the drive back. The store is called The Nest and we loved every sweet thing in there. The best part was I bought a crib plus the bedding. Done and done. I can't wait to get all set up and show you. Yessiree, it's starting to feel real.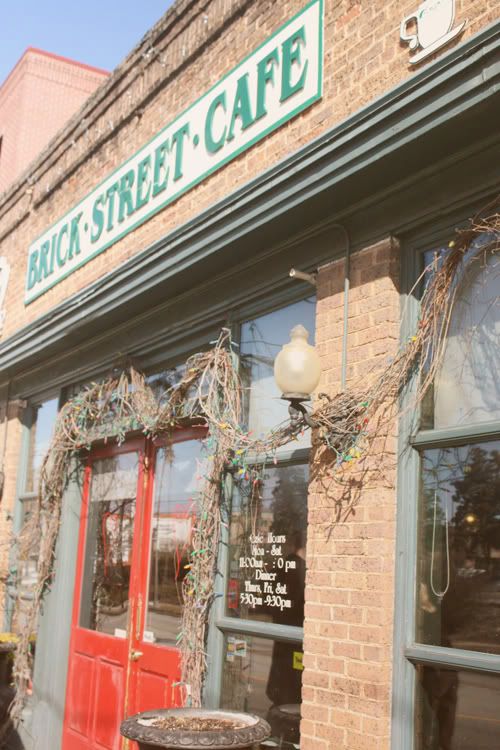 After all this we were seriously starving and ready for some grub. Our lunch stop was at The
Brickstreet Cafe
. It's kind of a ladies who lunch spot. You know, chicken salad, soups, sammies and quiche. The highlight was this decadent chocolate cake. Warm, gooey and served with fresh whipped cream. I was real nice and shared.
We ended the day with a drop of champagne and then a lovely meal downtown at the Lazy Goat. Tapas all around was the perfect amount.
More to come from this family visit, but for now I am hitting the hay. Goodnight!