This town I live in is pretty sweet. Open Studios is a yearly event here and it's a weekend for artists of all kinds to open their doors and share their goods. There were a ton of galleries participating, but we stuck to one section of town, Pendleton Street art district. There is an abandoned old mill near the center and old buildings of a once thriving little area are left. Of course the artists, being the pioneers that they are, have re-claimed the strip and set up shop in some amazing spaces, right next to some umm, crack houses. Makes it eclectic though!
Art Bomb, the first we toured, had at least 15 different studios inside. A sort of cooperative, where they could share and create amongst one another. Our favorite was
Jo Carol Mitchell-Rogers
who had these little square acrylic on masonite paintings. Is it weird that I fell in love with the "singlewide trailer" & empty bathtubs in a field? I guess there's just something about junk that brings out nostalgia. Kind of reminds me of the drive up to our mountain house in Beersheba Springs. It's a slice of America that's like no other. I wish I could stumble upon a field full of old, discarded bathtubs. That would be rather nice.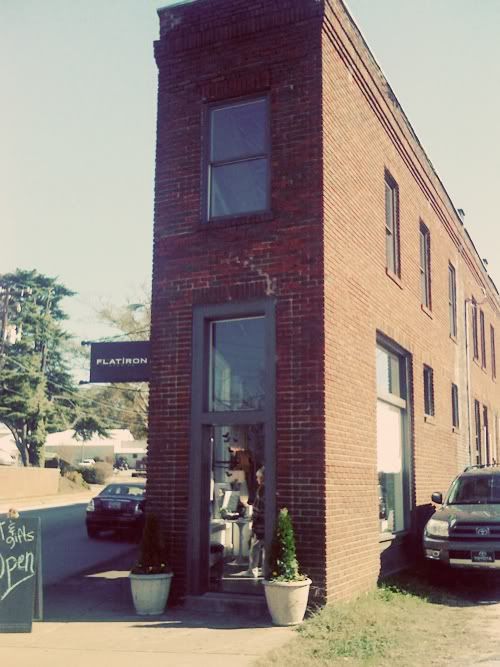 Next it was on to Flatiron Studios which sits on a triangular lot down the street. There were a couple stores inside including
art & light gallery
which had all sorts of eye candy. The shop was tiny and packed though and that usually spells disaster for a 6'4" husband. He knocked over some magnets and caused a commotion, but luckily nothing was broken and the owners were cracking up. It's hard to be tall. Then it was on to
Knack
next door. I introduced myself to the owner and found out she refurbishes old furniture. Paints them pretty colors, adds fun knobs and just makes a worn out piece look simply fabulous and new again. I wish I could do that! I was eying all sorts of stuff in her shop. All the shops are open the first Friday of the month and I can't wait to go back.