Well I have a new project to add to my list. Scrapboxes. Yepper, I am definitely going to create one of these little beauties. While working and watching the Marth Stewart show, yes I am multi talented and can two things at once, I was inspired by this craft segment.
Darcy Miller
, the wedding guru, creates these amazing family collages in box frames. She even had an opening to exhibit her work, called Family. She takes family photos, scraps of paper, epherma from vacations, or even old baby toys to create these memory boxes.
Ya know when you have some memorable things that are too bulky or awkward for a scrap book? That's where the shadow box comes in. I wish I could say I was a big scrapbooker, but no. I just pile things neatly or not so neatly into drawers or bins around the house, saving them for I don't know what. And I used to be so good about keeping up with photo albums, but even that has eluded me lately. Sadly I haven't even put my wedding album together. I thought I 'd save a little dough and get really crafty and make my own. Well that sure hasn't happened, but one day I swear I'm going to do it. I promise.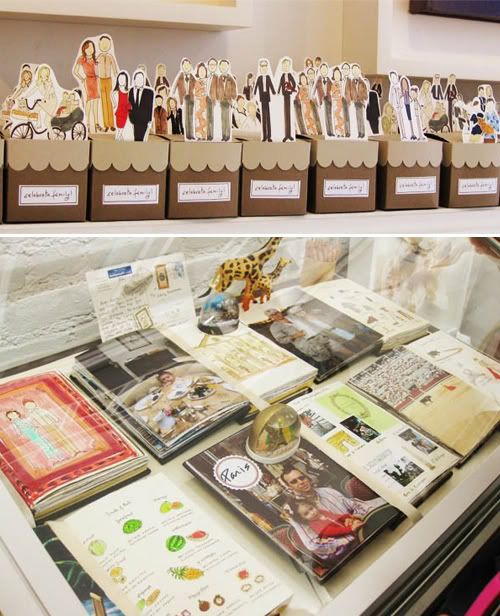 I guess my invitation got lost in the mail. Shoot! This looks like it was so much fun. They even had a photographer there taking portraits + Darcy sketching you, so guests could leave with their own personalized artwork ready for a scrapbox. They're adorable and no detail was left untouched. But of course - it was the Martha team. Even the lollipops had doodles on them. Now those would be adorable for a baby shower. Looks like they're from
beau-coup
.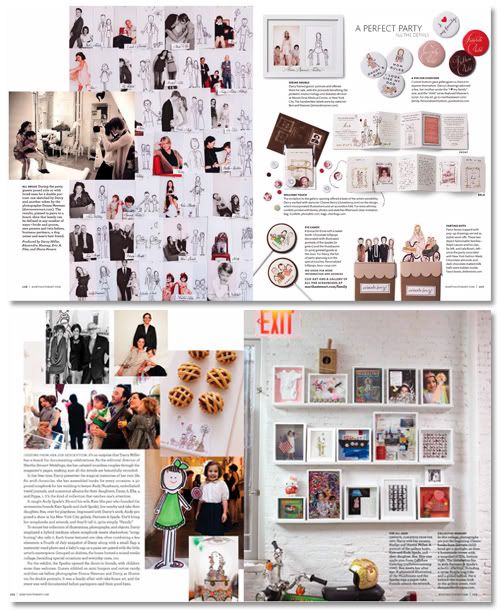 In the meantime I'm going to make myself one of these sweet memory boxes over the weekend. Not sure what it will be of but… I'll let ya know how it goes!