2009 was a big year for us. We rung in the new year out in Colorado at a Widespread concert before heading to Breckenridge for a wild ski trip. Trevor turned 30!
One of my oldest and best friends got engaged and later married. Currier and I geared up Tenn Hens, looking for new business and worked with some wonderful clients, new and old. Hubs made the decision to apply to grad school and study for the big entrance exam. My folks celebrated their 35th wedding anniversary. Another dear friend of mine since childhood was married by Becca Stevens (same as us!).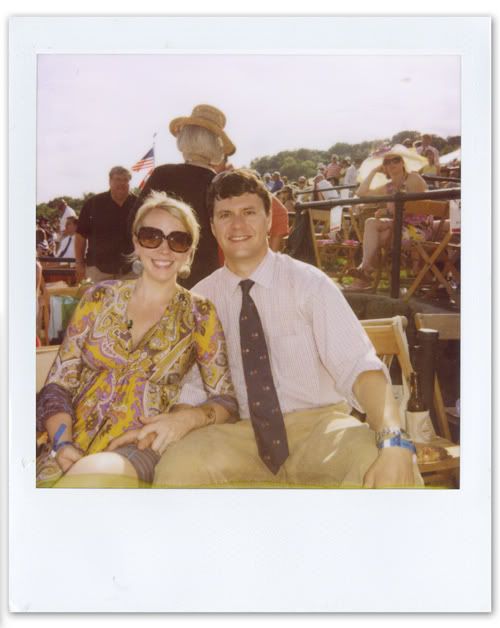 We attended a Derby Party where my pick from the hat, Mine That Bird, won me the pot. The horse racing continued when we went to the Iroquois Steeplechase in the muddiest year on record. My cowboy boots have never been the same since.
In May, we jetted off to Europe for a 2 week adventure in Paris, Florence, Tuscany and Rome. And during the trip we celebrate our first anniversary! We made our first trip to Greenville, SC. We hosted our annual 4th of July party in Beersheba Springs that included going to a square dancing barn party.
Two of the three triplet boys I'd been friends with since first grade, got hitched. My grandfather turned 92 and we toasted him with a big family dinner. Trevor got an acceptance call from Clemson grad school. We went from looking at new houses at the beginning of the year to putting our condo on the market. We went to a Drive By Truckers concert - hubs favorite. Some special friends threw us a a going away party.
We packed up all our things and waved goodbye to our home. We got an offer on the condo the day we moved. Trevor started school and I settled us into our new home. We embarked on a new adventure. We supported one another during a hard, but exciting transition. The condo sold and we were extremely grateful. I helped throw a baby shower for one of my first friend's to have a baby. We went to our first Clemson game. We met new people in a new town.
We found out I was preggers. I tried very hard to keep our big secret. Trevor went to San Francisco for the first time. We went to my Drs appointment and saw the first ultrasound. We celebrated Thanksgiving in Tennessee and shared our news. Hubs finished his first semester of school. In December, my belly started to grow. We practically moved in with my parents for an extended stay. And finally, we did lots of catching up over the holidays with friends, family and a couple new babies in town.
So 2009 might go down as our most eventful year. Lotta changes came our way. But they brought us closer and we learned even the bad times are better with one another. It makes you really grateful for the bright moments and good times. So long '09 and here's to 2010 being one for the record!