Let the baby shower continue. I really didn't want it to end. My friends hosted such a fun afternoon. Just loads of sweet faces wanting to rub my belly. Currier did the food and totally outdid herself. Seriously, this chick is amazing. Mini "baby food" was all set up on a pretty table for folks to nibble on. The mimosas were flowing and the weather was crisp and sunny. I truly didn't want to leave. Lot's of soft, cuddly things to wrap up the bambino in and even a few items I'd never seen before. And I received three, yes three, little whale bathtubs! And now that I'm home and organizing all the little gifts, I'm trying to imagine this little baby inside. Trying to imagine how it will feel once it arrives. And thinking of all my friends and how good it felt to be embraced and supported during such a big phase in my life. Thank you to my sweet friends. I felt very loved.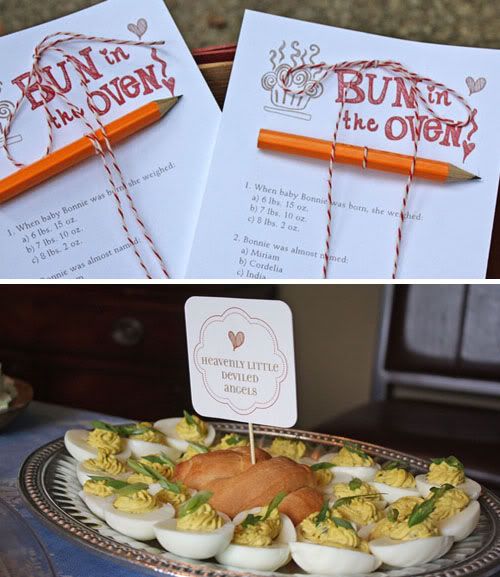 "aunt" fifi, momma & chef currier

cutest baby food ever : baby bump sliders, heavenly little deviled eggs, prosciutto bundles of joy, sweet pea and spinach bassinets, cucumber & wasabi sammies, and petit tommies (tomato sandwiches)
the cousins - bumpin' bellies

Auburn roomates - one who came all the way from Charleston!

oh and of course cousin Lauren & I had the same necklace on. so typical!